What comes to your mind when you hear the word "adventure"? Some might say traveling to new places is an adventure, some might say trying new cuisines are the adventure, and some might even say living their life off the edge is also an adventure. To some extent they all are correct. Because for most of the people doing something out of their comfort zone that thrills them is supposed to be an adventure. The dictionary defines adventure as an exciting or unusual experience. It may also be a bold, usually high-risk undertaking, with an uncertain outcome. Adventures may be activities with some potential for physical danger such as exploring, Bungee Jumping, Skydiving, Mountain Climbing, Rafting, Kayaking, or participating in extreme sports.
The thrilling experience of Adventure sports in Nepal
Nepal with its beautiful landscapes and diverse terrains is a very desirable destination for those who seek an adventure of their lifetime. Experience in Nepal contains numerous adventure activities for those who take their life as a challenge.
Most of the tourists who visit Nepal are mostly involved in an adventure which supports the adventure tourism in Nepal. Nepal has been a popular destination in adventure tourism because it provides some of the world's fascinating, exciting and thrilling activities. The different land structure of Nepal offers some of the best sites for these activities. The raging rivers to outrun, steep mountains to scale, blue skies to swipe you off of your feet, challenging Himalaya treks, clear lakes and rivers to swim, raft or boat, and a wild rough countryside to ride. I'm sure, for all those who seek adventure, a trip to Nepal would be a sage decision.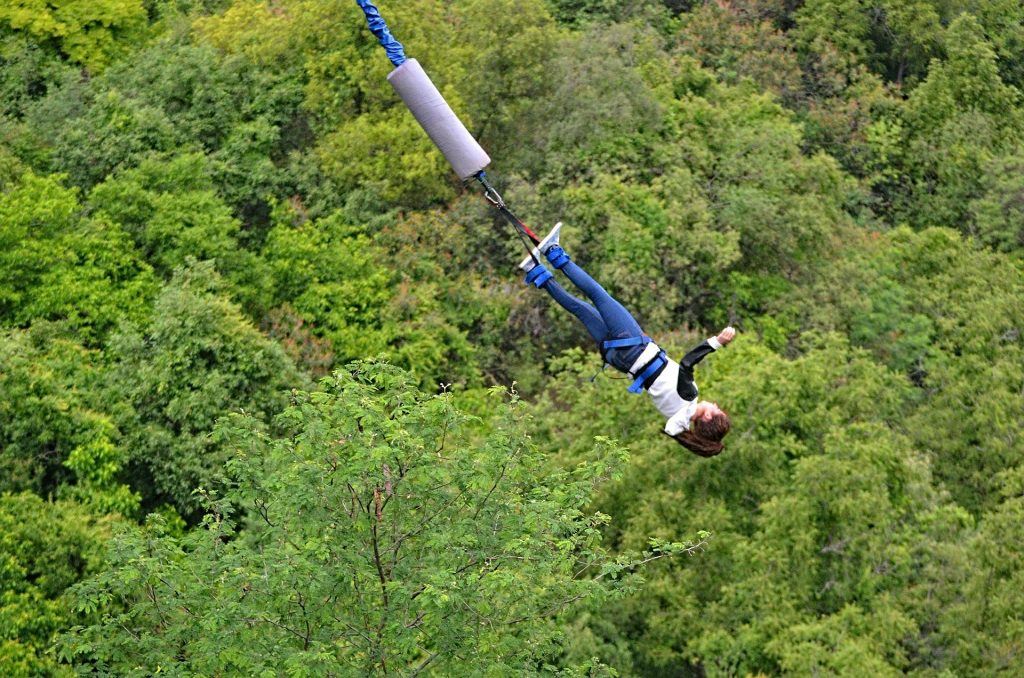 If you cannot decide what adventure in Nepal to try, many companies are there to help you with that. They offer you varieties of adventure packages which best suit your price and choice. Those companies also assist the tourist with their flight tickets along with their accommodation arrangements. There are various travel and treks companies that facilitate tourists with a suitable and reasonable price to enjoy the treks, tours, and different adventurous sports.
Here are Some great adventures in Nepal which you can try.
Bungee jumping
Canoeing
Kayaking
Mountain biking
Trekking
Mountain flights
Paragliding
Rafting
Among the adventurous activities that are popular among the tourist who is backpacking in Nepal, the trekking on the trails of Annapurna Base Camp; popularly known as ABC trail, is one of the best in Nepal. Due to the full range of the landscapes of Nepal, it is destined as one of the best places for tours and treks. The tourists can explore the vast wildlife of the Terai region, enjoy the natural beauty among the hills and also conquer the crown of the world.

Nepal not only provides a place for adventurous sports but also attracts the world with its diverse culture and ethnicity. The variety in our culture has always been a fascination among the tourists. It has always been exciting for the tourists to come and adopt the variations of culture and tradition that exist in Nepal. Different regions have their own culture and ritual which gives plenty of opportunities and choices.
Thus these things make Nepal the best and exciting place for the adventures that people seek in their life. People can plan the best holiday activities in Nepal. Nepal match up to the requirement and demand of every people around the world who want to satisfy their desires of feeling adventurous. They can come alone, with their group or even they can enjoy their best of times with their family too. Due to its typical and unique landscapes, the beautiful nature and diversities in caste and culture Nepal itself is a definition of adventure. If you are thinking of having some adventurous life full of excitement and thrill Nepal is the best choice.